Aditya L-1, Next Mission of ISRO to Study mysteries of the Almighty SUN
Aditya L-1 is the proposed first Indian mission to study the Sun (Hindi: सूर्य, अरुण or my name itself & आदित्य). This spacecraft shall be placed in a #halo orbit around the "#Lagrange point 1 (#L1)" of the "Sun-Earth system", which is about 1.5 million (15 Lakh) km from our lovely Earth.
आदित्य L-१ भारतका सूर्य के अध्ययन के लिए अंतरिक्ष में छोड़ा जाने वाला पहला उपग्रह होगा। एक भारी राकेट के साथ, इस उपग्रह को पृथ्वी से लगभग १५ लाख किलो मीटर दूर L-१ कक्षा में भेजा जायेगा। यह L-१ कक्षा वह होती है जहाँ पृथ्वी पर होने वाले ग्रहण अथवा इसकी छाया का असर खत्म होकर, इस उपग्रह पर लगातार सूर्य की रोशनी बनी रहेगी।इस तरह आदित्य L-१, सूर्य के काफी नजदीक पहुँचकर इसकी सरंचना, ऊष्मा की क्रियाओं तथा सूर्य की दूसरी अनसुलझी विज्ञान के रहस्य को खोलेगा। यह मिशन पृथ्वी से L-१ कक्षा तक पहुंचने में लगभग १०९ दिन का समय लगाएगा।
Why only L-1 orbit?
A satellite placed in the halo orbit around the L-1 point has the major advantage of continuously viewing the Sun without any occultation or eclipse.
What will ISRO achieve?
This mission will provide a greater advantage by observing solar activities and their effect on space weather in real-time. The spacecraft shall have 7 payloads to observe the #photosphere, #chromosphere, and the #corona (outermost layers of the Sun) using #electromagnetic, particle and magnetic field detectors.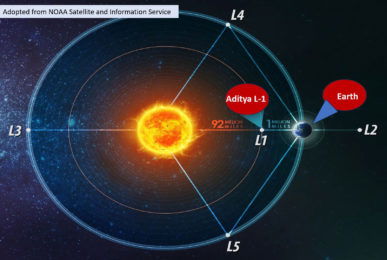 The suits of Aditya L1 payloads are expected to provide the most crucial information to understand the problem of #coronal #heating (how it becomes so disturbing in some areas of Earth) and non-seasonal weather changes, etc.
Dr. Arun P. Sikarwar
University Professor| Neuroscientist| TEDx speaker| Panelist at TV channels| Science Communicator| Insatiable learner
#adityal-1#isro #Space #NASA #Chandrayaan #Mangalyaan #PMO #Scientist #AdityaL1 #PSLVC57 #Sriharikota #ISRO_ADITYA_L1 #सूर्य मिशन #adityal1 #solarmission #isro #adityaL1 #Space #NASA #Chandrayaan #Mangalyaan #PMO #Scientist #ensembleiasacademy #geographyoptional #ias #civilservices #upsc_aspirants #upsc_exam
Source: ISRO
The link to join the course : Online Courses
Best Online Coaching for Civil Service_IAS_ UPSC_IFS_IPS
Free Study Material  ENSEMBLE IAS ACADEMY | Call +91 98115 06926  | Visit us:- https://ensembleias.com/ |  Online Store: https://online.ensemble.net.in/