Aral Sea Drying, The primary cause behind the shrinking of the Aral Sea is the diversion (for purposes of irrigation) of the main sources of inflowing water, the riverine waters of the Syr Darya (ancient Jaxartes River) in the north and the Amu Darya (ancient Oxus River) in the south, which historically discharged into the Aral Sea.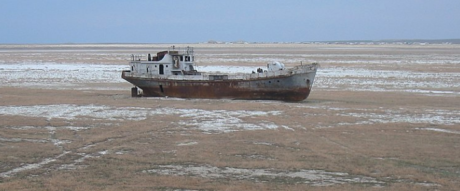 The Aral Sea depression was formed toward the end of the Neogene Period (which lasted from about 23 to 2.6 million years ago). Sometime during that process the hollow was partially filled with water—a portion of which came from the Syr Darya. In the early and middle parts of the Pleistocene Epoch (about 2,600,000 to 11,700 years ago), the region appears to have dried up, only to be inundated again sometime between the end of the Pleistocene and the early Holocene Epoch (i.e., after about 11,700 years ago)—the latter instance being the first time by the Amu Darya, which had temporarily changed its course from the Caspian to the Aral Sea. After that, except for some relatively brief dry spells between the 3rd and 1st centuries BCE, the two rivers' combined flows generally maintained a high water level in the sea until the 1960s.
Also Read : Lake Urmia Iran | Drying up of Lakes
Aral Sea Drying
WORLD'S FOURTH BIGGEST INLAND SEA.
LOCATION:- On the borders of Kazakhstan and Uzbekistan.
CURRENT SITUATION:- Mostly Desert
To buy our online courses:  Click Here
For more details : Best Online Coaching for Civil Service_IAS_ UPSC_IFS_IPS,
Free Study Material ENSEMBLE IAS ACADEMY
Call +91 98115 06926
Visit us:- https://ensembleias.com/
Online Store: https://online.ensemble.net.in/
Email: [email protected]