Nari Adalat 
By establishing women-only courts at the village level as an alternative conflict resolution forum for matters like domestic violence, property rights, and challenging the patriarchal system, the Center is initiating a novel endeavour.
Beginning in August, the programme would be introduced on a pilot basis in 50 villages each in Assam and Jammu & Kashmir before being expanded to the rest of the nation over the next six months.
Each village's Nari Adalat would consist of 7-9 people, half of whom would be elected gramme panchayat members and the other half of whom would be women with high social standing, such as teachers, doctors, and social workers.
The link to join the course : Online Courses
The Nari Adalat [women's court] will take on individual cases as well as spread awareness of government social programmes and gather insightful comments to improve the efficacy of these endeavours. All women and girls with needs or complaints in the neighbourhood will be taken care of.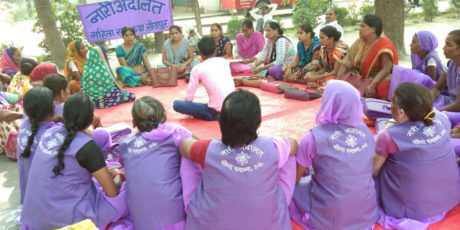 Its primary duties include spreading knowledge of women's legal rights and entitlements and handling matters that fall under its purview. Counseling, evidence-based decision making, pressure group tactics, alternative dispute resolution and grievance redress, negotiation, mediation, and reconciliation with mutual consent for accessible and inexpensive justice are among the services offered.
The platform will interact with residents as well, raising awareness of women's rights, legal viewpoints, different programmes, and gathering public feedback.
The head of Nari Adalat, known as the Mukhya Nyaya Sakhi [top legal friend] would be chosen from among the Nyay Sakhis, while members known as Nyaya Sakhis [legal friends] will be nominated or chosen by the gramme panchayat. The head will typically hold office for six months before being replaced.
While having no legal standing, the Nari Adalat primarily focuses on rapprochement, grievance redress, and raising awareness of rights and entitlements.
The programme would be administered by the Ministry of Women and Child Development as part of the Mission Shakti sub-program called Sambal, which is focused on enhancing the safety, security, and empowerment of women.
The Ministry of Panchayati Raj, the Ministry of Rural Development, and the Common Service Centers run by the Ministry of Electronics and Information Technology will all work together on the implementation process.
The programme was modelled after the Parivarik Mahila Lok Adalats [People's Court of Women] that the National Commission for Women (NCW) operated from 2014 to 2015.
These Lok Adalats, which received financial support from the NCW, were used to resolve cases including family concerns, marriage conflicts, bigamy, succession, and labor-related auto accident disputes.
Best Online Coaching for Civil Service_IAS_ UPSC_IFS_IPS,
Free Study Material  ENSEMBLE IAS ACADEMY
Call +91 98115 06926
Visit us:- https://ensembleias.com/
Online Store: https://online.ensemble.net.in/
Email:  [email protected]
China limiting exports of raw materials – GS Paper 2 – International Relations
#Nari_Adalat  #women_courts #village #domestic_violence #property_rights #GS_Paper2  #Relations #civilservicesstudy #ensembleiasacademy #geographyoptional #k_siddharthasir #ias #civilservices #upsc_motivation #upsc_aspirants #upsc_exam #trendsingeography #trendofquestions #geographytrends #civilservicesstudy #ensembleiasacademy #geographyoptional #k_siddharthasir #ias #civilservices #upsc_motivation #upsc_aspirants #upsc_exam  #strategicthinker