To End the War in Afghanistan, the U.S. Reaches Out to Its Rivals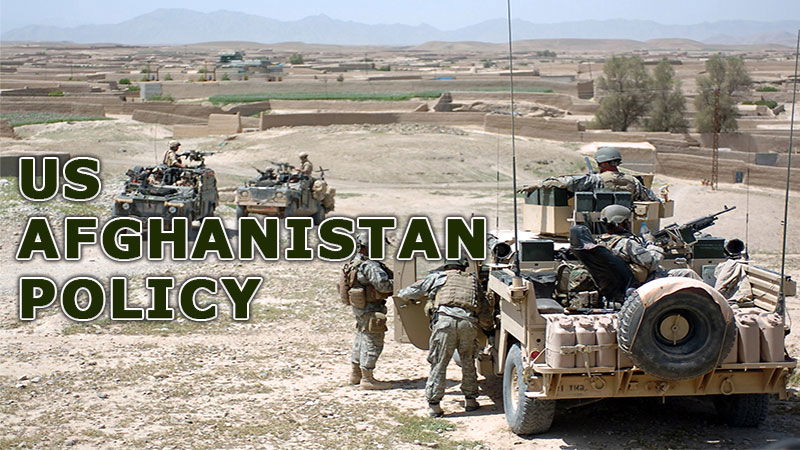 U.S. soldiers look out over the hillsides of an army checkpoint in the Afghan province of Wardak on June 6, 2019.
HIGHLIGHTS
The prospects of a U.S. drawdown from Afghanistan has compelled both China and Russia to take a more active role in the peace negotiations.

·  

In doing so, Moscow and Beijing are also forging stronger relations with the Taliban, which the United States will try to leverage to ensure the insurgents uphold their end of an eventual peace deal.
As the United States searches for an exit from Afghanistan, its outreach to China and Russia points to its rivals' growing influence in shaping the endgame to its longest-ever conflict. On Oct. 25, U.S. envoy Zalmay Khalilzad visited Moscow to discuss reviving the Afghan peace process with Russian, Chinese and Pakistani officials. China is also expected to host Taliban and Afghan government officials for talks next month. 
View our Blog: https://ensembleias.com/blog/
A political settlement between the Afghan government and the Taliban remains the ultimate goal of U.S. policy in Afghanistan. And if and when that settlement is reached, it will likely include the insurgents joining a future power-sharing agreement in Kabul, which has, in turn, prompted China and Russia to establish stronger relations with the Taliban as well to advance their own counterterrorism objectives in the country. But as long as the United States maintains a military presence in Afghanistan, the prospects for lasting peace in the war-torn country will ultimately remain in Washington's hands. Though that doesn't mean Moscow and Beijing's growing ties with the Taliban won't come in handy, as it could help the United States build a regional consensus behind its Afghan peace process.
The Big Picture
Outside powers have long played an outsized role in Afghanistan's history. This reality has again come to the fore as China and Russia increasingly insert themselves into the U.S.-led Afghan peace process, fueled by a mutual desire for a lasting political settlement to end the country's 18-year war.
China's Stake: Protecting the Far Western Frontier
From a security perspective, China has long had concerns over Uighur militants plotting attacks abroad from Afghanistan, whose Wakhan corridor borders the country's vast western province of Xinjiang. Despite its proximity, however, Beijing has successfully avoided engaging in combat in Afghanistan over the past 18 years — thanks, in large part, to U.S. counterterrorism operations in the country. But should the United States make a hasty exit from Afghanistan without a robust peace deal in place, it could create a security vacuum for transnational extremists like the Islamic State — thereby leaving China to fend off a jihadist resurgence near its western border.
To ensure against such an outcome, Bejing has pushed for a phased U.S. drawdown. It also has become increasingly involved in efforts to promote peace in Afghanistan. Until 2017, for example, Chinese officials participated with their U.S., Afghan and Pakistani counterparts in the four-nation Quadrilateral Coordination Group to discuss restoring stability in the country. And now, Beijing is slated to host its first intra-Afghan dialogue next month.
With the United States motioning toward an exit from Afghanistan, China has also increased its security presence in and around Afghanistan in recent years. In 2016, Chinese and Tajik forces held a joint military exercise in Tajikistan's Gorno-Badakhshan region, followed by another round this August focusing on counterterrorism. There are also rumors that China has quietly set up a military outpost in the region to monitor the Afghan border. And in 2018, the Afghan Embassy in Beijing confirmed that China is helping the Afghan military raise a mountain brigade to patrol Wakhan as well.
In addition to security implications, however, Afghanistan can also advance China's economic goals under its Belt and Road Initiative (BRI). While Afghanistan is not an official BRI member, its strategic location can still offer more direct overland access for future BRI projects that link western China with Iran, as well as those that link Afghanistan with Pakistan. Beijing also sees Afghanistan as having import potential, as evidenced by the large mineral shipment that was recently transported from northern Afghanistan to China's far eastern coast by cutting through Uzbekistan and Kazakhstan via train.
These economic opportunities explain why Beijing invited Kabul to join the China-Pakistan Economic Corridor in 2018. But such prospects — as well as Beijing's security — all are dependent on restoring stability in Afghanistan. To protect its borders from terrorists and reap these potential economic benefits, China will thus continue supporting peace negotiations — including facilitating dialogue between Afghanistan and Pakistan — as well as sustaining its security cooperation with Afghanistan, even as it avoids deploying actual troops on the ground.
Russia's Stake: Containing the Islamic State
But China isn't the only U.S. rival with a stake in Afghanistan's future. Indeed, Russia's own security concerns — as well as its long and tumultuous history in Afghanistan — has prompted Moscow to try to take the lead in jump-starting peace negotiations in recent years. The Soviet invasion of Afghanistan in 1979 led to a nearly decadelong occupation pitting the Marxist government in Kabul against the Afghan mujahideen backed by the United States, Pakistan, Saudi Arabia and China. The end of that conflict nearly 10 years later then paved the way for a civil war culminating in the rise of the Taliban and its eventual conquest of Kabul in 1996. During the Taliban's five-year reign, Russia — along with Iran and India — supported the anti-Taliban Northern Alliance, and also initially backed the U.S.-led invasion of Afghanistan to dismantle the Taliban government following the 9/11 attacks in 2001.
But in more recent years, the security implications of a U.S. withdrawal in Afghanistan have compelled Moscow to deepen its leverage in the Afghan peace process. Like China and the United States, Russia recognizes that a stable Afghanistan is key in mitigating the transnational threat arising from the Islamic State and other militant groups. From Moscow's perspective, reestablishing some sense of stability and governance in the country could also help rein in the long-standing flow of Afghan opium into Russia.
In support of these two core interests, Russia's Foreign Ministry has hosted several conferences on Afghanistan since 2016, including a summit in February that involved Taliban officials and former Afghan President Hamid Karzai. As a part of this rekindled interest in Afghanistan's future, Russia has also warmed up to the Taliban's key sponsor and former Cold War enemy, Pakistan. In 2014, Moscow lifted its arms embargo against Islamabad. And in 2016, the two countries launched the first of their now annual joint military drills.
The U.S.'s Goal: A Political Settlement 
Despite Russia and China's efforts to influence Afghanistan's fate by cozying up to the Taliban, however, only the United States can grant the insurgents their core desire of a U.S. troop withdrawal. But Khalilzad's outreach nonetheless suggests that Washington can leverage each country's budding relationship with the Taliban to help ensure the insurgents uphold their end of the eventual deal, including a cease-fire, counterterrorism pledge against al Qaeda and the Islamic State, and talks between the Afghan government and Taliban.
The United States will petition China and Russia's help to restart peace talks, knowing that a stable Afghanistan is in its enemies' interests as much as it's in its own.
To secure this comprehensive deal, the United States has pursued talks with the Taliban over the past year. But the dialogue has since stalled following U.S. President Donald Trump's decision to call off the process last month. The Taliban have expressed interest in restarting talks to achieve the withdrawal of U.S. forces, though they have pledged to keep fighting in the meantime. Continued violence in Afghanistan, however, won't necessarily keep the White House from ordering a drawdown from Afghanistan in the coming months, as Trump searches for foreign policy victories ahead of the 2020 U.S. presidential election. Indeed, NATO's commanding general confirmed Oct. 21 that the United States has already drawn down 2,000 troops from Afghanistan this year, bringing the total U.S. forces in the country to 12,000 (compared with the 100,000 deployed during the height of the surge in 2011).
But after nearly two decades of combat, the United States has decided that a political settlement is its best bet in restoring stability in Afghanistan, meaning its talks with the Taliban will ultimately restart. And when they do, there's a chance Washington could bring Russia and China into the fold for added support, even as the global powers pursue competing self-interests in one of Asia's longest-running conflicts.
Visit our store at http://online.ensemble.net.in
Source: Worldview | Stratfor