Vikram-S Rocket – Skyroot Aerospace
Why in the News?
1. On Tuesday, October 24, Union Science and Technology Minister Jitendra Singh unveiled India's first seven-story building-height rocket.
2. Skyroot Aerospace unveiled Vikram-1 at its Hyderabad city headquarters, MAX-Q.
3. This rocket is set to launch in the 1st quarter of 2024 from Satish Dhawan Space Centre, Sriharikota.
The link to join the course : Online Courses
What is Vikram-1 Rocket?
1. Vikram -1 rocket, named after Dr Vikram Sarabhai- The father of the Indian Space Programme.
2. It is a multi-stage launch vehicle capable of delivering a 300-kilogram payload into Low Earth Orbit. This rocket's body is entirely built of carbon fibre and Vikram-1 contains a 3D-printed liquid engine.
3. To launch the rocket into orbit, Vikram uses a combination of solid fuel in the lower stage and a mixture of fuel in the upper stage.
4. Rocket will use solid fuel in the Low stage and mixture & and liquid fuel in the upper stage.
5. Vikram 1 has a proven design heritage and is an extremely dependable solid propulsion stage with modern and Compact Avionics.
6. The Skyroot planned to launch the Vikram series with Vikram-2(595 kg to 500 km Low Inclination Orbit) and Vikram -3(815 kg to 500 km Low Inclination Orbit).
Purpose: –
1. Vikram-1, the rocket, is capable of delivering and deploying numerous nanosatellites into low-Earth orbit.
2. This rocket is specifically designed in a way to carry approximately 20000 small satellites into space.
About Skyroot Aerospace:
1. A pioneering Indian startup in the realm of aerospace Skyroot Aerospace was founded in 2018 by Pawan Kumar Chandana and Naga Bharath Daka, two innovative entrepreneurs.
2. Skyroot Aerospace won the Indian Business Leader Award 2023's Young Turk Startup of the Year title.
3. The first rocket produced by Skyroot Aerospace under the Mission Prarambh was the Vikram-S rocket, which was launched on November 18, 2022, using the engine name Kalam 80.
4. According to Bharath Daka, co-founder and chief operating officer of Skyroot, it is a "moment of great pride" that Vikram-1 was launched on the same day as the new headquarters opened.
IN-SPACe: –
The Indian Space Research Organization founded (June -2020) the Indian National Space Promotion and Authorization Center (IN-SPACe), a government organization in India.
1. To Promote and involvement of the private sector
2. To grow space sector business across the globe
3. To Increase independent space activities.
4. To boost the private space sector economy in India.
5. To inspire young Indians to join the space industry.
6. Skyroot was the first private company to come upfront
Vikram-S Rocket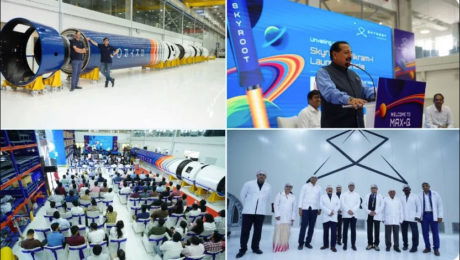 Mission Prarambh: –
On November 18, 2022, at 11:30 am IST, the suborbital launch vehicle Vikram-S from M/s Skyroot Aerospace Pvt. Ltd. Hyderabad, was successfully launched from the sounding rocket launch complex at Satish Dhawan Space Centre, Sriharikota. It is the first launch vehicle made in India by a private enterprise. IN-SPACe granted authorization for the mission. The launcher took 155 seconds to reach an altitude of roughly 89.5 kilometres. Three payloads were carried by this sounding rocket.
LEO: – Low Earth orbit is a region of space located relatively close to the Earth's surface. It extends from about 180 kilometres (112 miles) to approximately 2,000 kilometres (1,243 miles) above the Earth's surface. LEO is one of the regions where objects such as satellites and spacecraft can be placed into orbit around the Earth.
Private Sector Importance in the Space Industry
1. By working with the private sector, ISRO will be able to focus more on science and development, interplanetary exploration, research and development, and strategic launches.
2. ISRO and private companies' resources can be useful to each other.
3. Economic and Commercial benefits
4. Cost -Effect benefits
5. The source of carrying nanosatellites into space will rise for India & and globally.
6. India will be able to cater to more nano satellites from other countries; as launching from India is affordable as compared to NASA and Space X.
Conclusion
Vikram-1 is a remarkable rocket and it is going to lead India to become more advanced and powerful in the space industry. This rocket is a result of encouraging the private sector into space.
Best Online Coaching for Civil Service_IAS_ UPSC_IFS_IPS
Free Study Material  ENSEMBLE IAS ACADEMY | Call +91 98115 06926  | Visit us:- https://ensembleias.com/ |  Online Store: https://online.ensemble.net.in/
#Vikram_S_Rocket #Prarambh #OpeningSpaceForAll #ISRO #Skyroot_Aerospace #scienceandtechnology #civil_services_study #ensemble_ias_academy #geography_optional #k_siddharthasir #ias #upsc_exam #civilservices #upsc_motivation #upsc_aspirants #trendsingeography #skyroot # in-space #vikram1 #vikrams