Harami Nala, Sir Creek, once again in focus after the terror attack on Mumbai. This narrow 99-km stretch off Rann of Kutch is where the marine boundaries of the two countries are hazy, is a disputed area between India and Pakistan.
The link to join the course : Online Courses
It is The estuary is also a place where trawlers from both countries jostle with each other for a good catch in brackish water. Locals call it 'Harami Nala', an abuse reserved for an area because a lot of smuggling and other nefarious activities happen in this estuary .But also, There is reason to believe that the terrorists who attacked Mumbai on November 26 moved from a Pakistani boat to an Indian vessel (Kuber) in this creek, which has long been a source of infiltration across the border.
In early August this year, the Union Home Minister, Amit Shah, visited "Harami Nala" and the Border Observation Posts (BOPs) of the Border Security Force (BSF) in that sector in the Sir Creek area of Kutch, Gujarat, along the India Pakistan international border.
The aptly named Harami Nala ("rogue or treacherous channel" in English) is one of the most inhospitable places along the border.
Harami Nala is a natural water body, approximately 25 kilometers long that flows west to east from Pakistan into Kutch just south of the Vighakot sector, flanked by vast marshy mud flats that are affected by low and high tides
the Home Minister laid the foundation stone for a mooring place at Koteshwar in Kutch and also inaugurated the newly constructed Chidiyamod Biarbet Link Road and OP Tower in the Harami Nala area.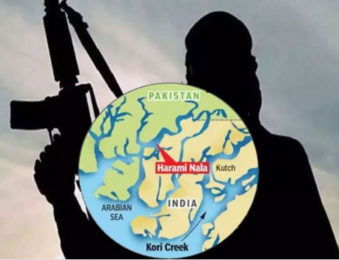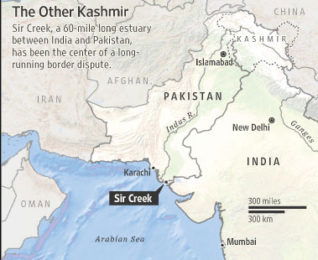 PM's vision of a "Secure border".
The Mooring Place project, with an allocated budget of ₹•257 crore, will make a huge difference by allowing berthing, repairs and maintenance for bigger vessels, including the floating BOPs, thus bolstering the BSF's capabilities in the Creek area. The Harami Nala is extremely rich in fishing, especially prawns. Moreover, the formidable marshy terrain through which it runs makes it impossible to approach or patrol on foot even during low tide.
Treacherous tides, morass and mirages are matched by scorching temperatures (above 50° Celsius) in summer.
In contrast, the Harami Nala has always been more accessible from the other side.
Pakistani fishing boats try and make their way up the many small creeks to surreptitiously enter the Harami Nala on the Indian side, drawn by the plentiful catch
Best Online Coaching for Civil Service_IAS_ UPSC_IFS_IPS
Free Study Material  ENSEMBLE IAS ACADEMY | Call +91 98115 06926  | Visit us:- https://ensembleias.com/ |  Online Store: https://online.ensemble.net.in/
#Haraminala # Sir_creek #internalsecurity #amitshah #bsf #boarder_security  #pakistan_boarder #terrorism #aquaculture #blue_economy #Indian_Navy #ensembleias #GSPAPER2 #Governance #Prime_Minister  #Narendramodi  #GS2 #Governance  #UPSC_GSPaper2 #GS_Paper_2 #civilservicesstudy #ensembleiasacademy #geographyoptional #k_siddharthasir #strategicthinker #ias #civilservices #upsc_motivation #upsc_aspirants #upsc_exam #trendsingeography