Lake Tanganyika is an African Great Lake. It is the second-oldest freshwater lake in the world, the second-largest by volume, and the second-deepest, in all cases after Lake Baikal in Siberia. It is the world's longest freshwater lake.
The lake has warmed so much that fish catches that feed millions of poor people in 4 surrounding countries are at risk.
Also Read : Gatun Lake Panama
Clear water lake on Lake Tanganyika in Kagongo Ward, Kigoma Region, Tanzania.
Neolamprologus : One of the many Tanganyika cichlids is Neolamprologus brichardi. The complex behaviors of this species.
Bathybatini : Bathybates ferox is benthic and piscivorous, but the genus also includes pelagic species.
Benthochromini : Benthochromis horii was scientifically described in 2008, but has often been misidentifed as Boulengerochromini.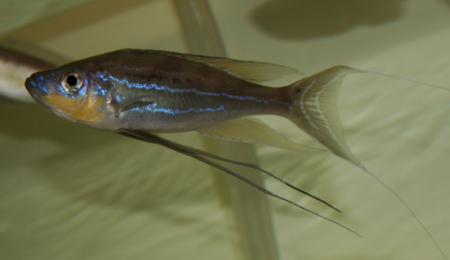 Boulengerochromis microlepis is one of the world's largest cichlids and only member of its tribe.
Cyphotilapiini : Cyphotilapia frontosa, one of only two similar species in the tribe.
Cyprichromini : Cyprichromis microlepidotus and other members of this tribe are open-water planktivores.
Ectodini : Ophthalmotilapia nasuta (male) is sexually dimorphic, males being more colorful with longer fins and nose.
Eretmodini : Eretmodus cyanostictus lives near the bottom in the turbulent, coastal surf zone, like other members of its tribe.
Haplochromini: Astatotilapia burtoni is one of the few Tanganyika species,unlike other African Great Lakes where most belong to this tribe.
Lamprologini : Julidochromis marlieri is popular in the aquarium trade where members of the genus are known as "Julies".
Limnochromini : Gnathochromis permaxillaris is a zooplanktivore with an unusual protractile mouth.
Perissodini : Perissodus microlepis, a specialized scale-eating species.
Tilapiini: Oreochromis tanganicae is one of the most common coastal species found in local fish markets.
Tropheini : Tropheus moorii ("Red" Chimba Morph) is highly variable and the taxonomy of some of the morphs is questionable.
Tanganyika killifish: The Tanganyika killifish (Lamprichthys tanganicanus) is the only member of its genus
Tiphobia horei : The shell of the endemic thalassoid freshwater snail Tiphobia horei with its elaborate shape and spines.
To buy our online courses:  Click Here
For more details : Best Online Coaching for Civil Service_IAS_ UPSC_IFS_IPS,
Free Study Material ENSEMBLE IAS ACADEMY
Call +91 98115 06926
Visit us:- https://ensembleias.com/
Online Store: https://online.ensemble.net.in/
Email: [email protected]