The Padma Awards are one of the highest civilian honours of India announced annually on the eve of Republic Day. The Awards are given in three categories: Padma Vibhushan (for exceptional and distinguished service), Padma Bhushan (distinguished service of higher order) and Padma Shri (distinguished service). The award seeks to recognize achievements in all fields of activities or disciplines where an element of public service is involved.
Chandrasekhar  Kambara
Chandrasekhar Kambara is a prominent Indian poet, playwright, folklorist, film director in Kannada language and the founder-vice-chancellor of Kannada University in Hampi also president of the Sahitya Akademi, country's premier literary institution, after Vinayak Krishna Gokak (1983) and U.R. Ananthamurthy (1993).
He has been conferred with many prestigious awards including the Padma Bhushan in 2021, Jnanpith Award in 2011 for the year 2010, Sahitya Akademi Award, the Padma Shri by Government of India.
Balasubrahmanyam
Balasubrahmanyam has won six National Film Awards for Best Male Playback Singer for his works in four different languages – Telugu, Tamil, Kannada, and Hindi. He won the Film fare Award, and six Film fare Awards South. According to some sources, he held the Guinness World Record for recording the highest number of songs by a singer with over 40,000 songs.
To buy our online courses  Click Here
Shinzo Abe
Shinzo Abe is a Japanese politician who served as Prime Minister of Japan and President of the Liberal Democratic Party (LDP) from 2006 to 2007 and again from 2012 to 2020. He is the longest-serving prime minister in Japanese history. Abe also served as Chief Cabinet Secretary from 2005 to 2006 and was briefly Leader of the Opposition in 2012.
Wahiduddin Khan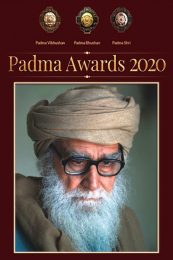 Wahiduddin Khan known with the honorific Maulana, is an Indian Islamic scholar and peace activist known for having written a commentary on the Quran and having translated it into contemporary English. He has been listed in the 500 Most Influential Muslims of the world.
Belle Monappa Hegde
B.M. Hegde is a cardiologist, professional educator and author. He is the former Vice Chancellor of Manipal University, Co-Chairman of the TAG-VHS Diabetes Research Centre, Chennai and the chairman of Bharatiya Vidya Bhavan, Mangalore. He has authored several books on medical practice and ethics. He is also the Editor in Chief of the medical journal, Journal of the Science of Healing Outcomes. He was awarded the Dr. B. C. Roy Award in 1999. He was awarded India's third highest civilian award the Padma Bhushan in 2010. He was awarded India's second highest civilian award the Padma Vibhushan in 2021.
Trun Gogoi
Tarun Gogoi was an Indian politician who served as the Chief Minister of Assam from 2001 to 2016. He was the longest serving Chief Minister of the state. During his tenure as the chief minister, he is credited with ending militant insurgency and mitigating violence in addition to improving the state's fiscal condition.
He had also served six terms as a Member of Parliament, Lok Sabha and had also served as a Union Minister of State in the Ministry of Food and Ministry of Food Processing Industries. He was posthumously awarded the Padma Bhushan, India's third highest civilian honour in 2021.
Krishnan Nair Shantakumari Chithra
S. Chithra or Chithra is an Indian playback singer and Carnatic musician. She has recorded more than 25,000 songs in various Indian languages. She is also known for her extensive history of collaboration in the songs with Music Composers A.R. Rahman, Ilaiyaraja and with the playback singers SP Balasubrahmanyam and K J Yesudas over the years. She is also known mostly for her sweet and melodious voice for which she is fondly called as Melody Queen and Nightingale of South India.
Sumitra Mahajan
Sumitra Mahajan is an Indian politician who was the Speaker of Lok Sabha from 2014 to 2019. She belongs to Bharatiya Janata Party. She represented the Indore constituency of Madhya Pradesh from 1989 to 2019 as a longest serving Woman Member of Parliament, and then retired from electoral politics. She was the eldest and senior most among woman Members of Parliament in the 16th Lok Sabha. She is the second woman after Meira Kumar to be elected as the Speaker of the Lok Sabha. She was awarded India's third highest civilian award the Padma Bhushan in 2021.
Kalbe Sadiq
Kalbe Sadiq was an Indian Islamic scholar, reformer, educationist, philanthropist and teacher. He has lectured overseas mostly in the Islamic month of Muharram. He was awarded India's third highest civilian award the Padma Bhushan posthumously in 2021.He founded the Tauheedul  Muslimeen Trust on 18 April 1984 with an aim to give educational assistance and scholarships to needy and poor students.