Suez Canal Traffic Jam: The blockage of Egypt's Suez canal by a giant container ship is causing a "traffic jam" in the Red Sea, according to a merchant seaman on a nearby ship.
The number of vessels waiting at the canal's southern entrance was "growing exponentially".
To buy our online courses:  Click Here
"It's going to affect shipping schedules around the world," he warned.
Tugboats and dredgers are trying to dislodge the Ever Given, which is wedged diagonally across the waterway.
The 400m-long (1,300ft), 200,000-tonne vessel ran aground on Tuesday morning amid high winds and a sandstorm that affected visibility.
Specialist salvage companies have been brought in to help refloat the ship, and an adviser to Egypt's president has said he hopes the situation will be resolved within two to three days. But experts have said it could take weeks if the vessel's containers need to be removed.
'Our customers are worried about the Suez blockage'
How do you refloat a giant cargo ship?
In pictures: Efforts to shift huge ship from canal
Read More: A voyage to map the Indian ocean genome
About 12% of global trade passes through the 193km (120-mile) canal, which connects the Mediterranean Sea to the Red Sea and provides the shortest sea link between Asia and Europe.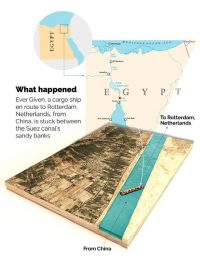 Service provider Leth Agencies said a total of 237 vessels were waiting in the area on Friday – 107 at Port Suez in the Red Sea, 41 at the canal's midway point in the Great Bitter Lake, and 89 at Port Said in the Mediterranean.
The blockage is holding up an estimated $9.6bn (£7bn) of goods each day – or $400m an hour – according to data from Lloyd's List.
The shipping journal said two major companies, Maersk and Hapag-Lloyd, were looking into whether to re-route their vessels.
The first container ship to opt for the longer journey around the Cape of Good Hope was the Ever Given's sister ship, the Ever Greet, both of which are operated by the Taiwanese firm Evergreen Marine, it added.
Source: BBC / News 18