Narmada or Nerbudda is a river in central India. It forms the traditional boundary between North India and South India, and is a total of 1,289 km (801 mi) long. Of the major rivers of peninsular India, only the Narmada, the Tapti and the Mahi run from east to west.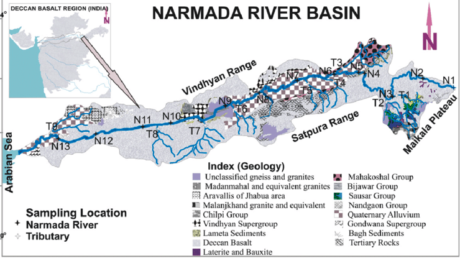 It rises on the summit of Amarkantak Hill in Madhya Pradesh state, and for the first 320 kilometres (200 miles) of its course winds among the Mandla Hills, which form the head of the Satpura Range; then at Jabalpur, passing through the 'Marble Rocks', it enters the Narmada Valley between the Vindhya and Satpura ranges, and pursues a direct westerly course to the Gulf of Cambay.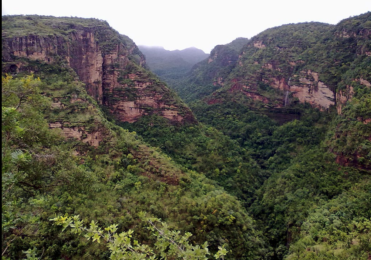 Also Read : Indian Drainage System
Its total length through the states of Madhya Pradesh, Maharashtra, and Gujarat amounts to 1312 kilometres (815 miles), and it empties into the Arabian Sea in the Bharuch district of Gujarat.
Narmada and Tapi are the rivers which flow in rift valleys.  These rift valleys are the result of the faulting that took place when northern flank of the Peninsula suffered subsidence.  The Narmada is the largest Peninsular river flowing in westwards direction.
It rises near Amarkantak in Madhya Pradesh where almost nine-tenth of its basin area lies.  The rest one-tenth lies in Gujarat.  The Narmada basin in characterised lack of well-developed tributary streams.
It is the fifth largest river in the country and the largest one in Gujarat. It traverses Madhya Pradesh, Maharashtra and Gujarat and meets the Gulf of Cambay. The total length of the river from source to sea is 1312 kilo meters (815 miles) while the length up to dam site is 1163 kilo meters.
In May 2017, a team of environmentalists travelled along the
Narmada river from its origin at Amarkantak in Anuppur district of east Amarkantak in Anuppur district of eastern Madhya Pradesh down to Barwani district abutting Gujarat in the west.They wanted to take stock of the condition of this ancient river and its environs in the context of a high-profile campaign by the state government for Narmada conservation.
What they found was a stark and chilling reminder of how one of the most holy rivers of India is being destroyed. In the 14 districts that they travelled through, towns and cities are emptying untreated sewage in to it and industries are pumping effluents even as deforestation in the surrounding Satpura and Vindhya ranges has dried up 60 of the 101 tributaries that used to feed the Narmada. Groundwater levels have fallen to lows of as much as 300ft or more in the vicinity , garbage lies piled in towns and riverbanks are en.
Unfettered mechanised sand mining is taking its toll throughout the nearly 1,100km length of the Narmada in MP . Several fish species, including the mahaseer, are in terminal decline because of pollution and destruction of habitat.
To buy our online courses:  Click Here
For more details : Best Online Coaching for Civil Service_IAS_ UPSC_IFS_IPS,
Free Study Material ENSEMBLE IAS ACADEMY
Call +91 98115 06926
Visit us:- https://ensembleias.com/
Online Store: https://online.ensemble.net.in/
Email: [email protected]