Penna (also known as Pinakini, Pennar, Penner, Penneru (Telugu), Pennai (Tamil)) is a river of southern India. This is a unique river in world where after originating from Nandi hills, it flows as two different streams, one in North and South directions. The Penna rises in the Nandi Hills in Chikkaballapur District of Karnataka state, and runs north and east through the states of Karnataka and Andhra Pradesh to empty into bay of bengal in Andhra Pradesh. It is 597 kilometres (371 mi) long, with a drainage basin covering 55,213 km. 6,937 km. in Karnataka and 48,276 km. in Andhra Pradesh. Along with this main stream there is another stream south towards Tamilnadu with the name Then Pennai or south Pennar which further moves towards the east to empty into the Bay of Bengal.The Penna river basin lies in the rain shadow region of Eastern Ghats and receives 500 mm. average rainfall annually.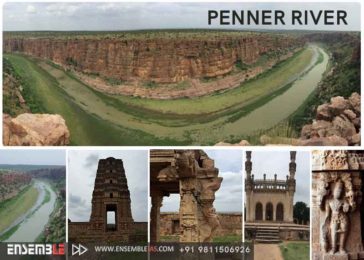 Also Read : Indian Drainage System
Pennar (also known as Uttara Pinakini) is one of the major rivers of the peninsula. It lies over the state Karnataka and Andhra Pradesh. The basin is fan shaped. It is bounded by–
1. The Erramala range on the north,
2. The Nallamala and Velikonda ranges of the Eastern Ghats on the east,
3. The Nandidurg hills on the south and
4. The narrow ridge separating it from the Vedavati valley of the Krishna Basin on the west.
5. The other hill ranges in the basin to the south of the river are the Seshachalam and Paliconda ranges.
Source of the river
The Pennar rises in the Chenna Kasava hill of the Nandidurg range, in Chikkaballapura district of Karnataka and flows towards east eventually draining into the Bay of Bengal. The total length of the river from origin to its delta is 597 km.
Tributaries of Pennar River
• Left Bank: the Jayamangali, the Kunderu and the
• Right bank: the Chiravati, the Papagni etc.
Gandikota village, located in Kadapa district, Andhra Pradesh, is home to a stunning canyon, by the Pennar river. This is often compared to the Grand Canyon of Arizona, USA. Gandikota is unique and very popular.
Over time, the Pennar River carved the pink granite rock of Erramala Hills and formed Gandikota Canyon.
For more details : Best Online Coaching for Civil Service_IAS_ UPSC_IFS_IPS,
Free Study Material ENSEMBLE IAS ACADEMY
Call +91 98115 06926
Visit us:- https://ensembleias.com/
Online Store: https://online.ensemble.net.in/
Email: [email protected]